How to Purchase

U.S. and Canada
Outside U.S.
1-800-780-7836
1-617-225-0080
+1-617-225-0080


Home /
About Xcitex /
News and Events
/ Swallowing Study with XROMM using ProCapture and ProAnalyst
Swallowing Study with XROMM using ProCapture and ProAnalyst
January 27, 2020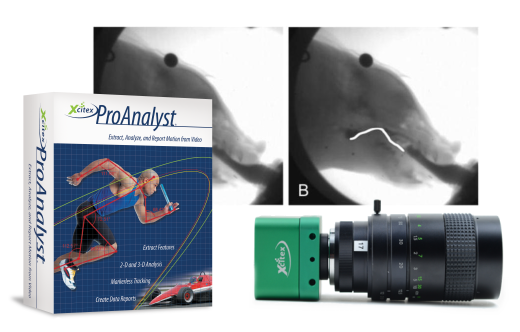 ProCapture and ProAnalyst for XROMM
An article in the journal Frontiers in Neurology presents analysis from X-ray fluoroscopy by researchers at Northeast Ohio Medical University (NEOMED) and Johns Hopkins University. Xcitex high-speed, long-record cameras were used in conjunction with a modified C-arm to film infant pigs swallowing before and after laryngeal nerve lesions. ProAnalyst was used to calibrate, track, and score the kinematics of the tongue, epiglottis, hard and soft palate, hyoid, and thyroid cartilage throughout a swallow. The findings from this research may be used to guide the clinical assessment and treatment of dysphagia in patient populations.
Article Abstract
"Swallowing is complex at anatomical, functional, and neurological levels. The connections among these levels are poorly understood, yet they underpin mechanisms of swallowing pathology. The complexity of swallowing physiology means that multiple failure points may exist that lead to the same clinical diagnosis (e.g., aspiration). The superior laryngeal nerve (SLN) and the recurrent laryngeal nerve (RLN) are branches of the vagus that innervate different structures involved in swallowing. Although they have distinct sensory fields, lesion of either nerve is associated clinically with increased aspiration. We tested the hypothesis that despite increased aspiration in both case, oropharyngeal kinematic changes and their relationship to aspiration would be different in RLN and SLN lesioned infant pigs. We compared movements of the tongue and epiglottis in swallows before and after either RLN or SLN lesion. We rated swallows for airway protection. Posterior tongue ratio of safe swallows changed in RLN (p = 0.01) but not SLN lesioned animals. Unsafe swallows post lesion had different posterior tongue ratios in RLN and SLN lesioned animals. Duration of epiglottal inversion shortened after lesion in SLN animals (p = 0.02) but remained unchanged in RLN animals. Thus, although SLN and RLN lesion lead to the same clinical outcome (increased aspiration), the mechanisms of failure of airway protection are different, which suggests that effective therapies may be different with each injury. Understanding the specific pathophysiology of swallowing associated with specific neural insults will help develop targeted, disease appropriate treatments."
Read the Article
Gould FDH, Lammers AR, Mayerl CJ and German RZ (2019) Specific Vagus Nerve Lesion Have Distinctive Physiologic Mechanisms of Dysphagia. Front. Neurol. 10:1301. doi: 10.3389/fneur.2019.01301