How to Purchase

U.S. and Canada
Outside U.S.
1-800-780-7836
1-617-225-0080
+1-617-225-0080


Home /
About Xcitex /
News and Events
/ Xcitex-presents-at-MIT-2017
Xcitex VP of Engineering lecturing at Edgerton Center at MIT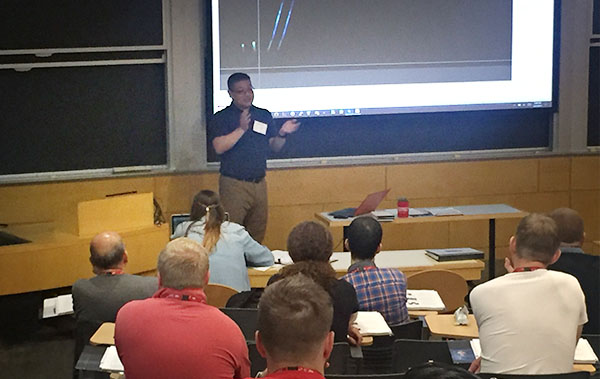 July 7th, 2017
Xcitex VP of Engineering Jesse Hong, Ph.D. returned to the Edgerton Center at MIT to teach at the MIT Professional Education Short Program on High-Speed Imaging for Motion Analysis. Jesse spoke to professionals attending the 4-day course on best practices for extracting movement data from high-speed videos. Some of the key issues Jesse discussed were 2-D vs. 3-D motion analysis, camera synchronization, image processing tools, and tracking and stabilization. Jesse frequently speaks at educational conferences, conducts group training sessions on ProAnalyst and other Xcitex products, and also holds regular webcasts on motion analysis. If you are interested, please click here to register and we will contact you with all the details on the next Motion Analysis webcast.
Topics covered:

Calibration & camera setup
What makes a good feature?
When to use image processing?
Which analysis tool to use?
Derived quantities and data reduction
Reproducibility and removing user-independence
Validate your results
The MIT high-speed imaging and motion analysis program is designed for scientists, engineers, and imaging specialists who need to gather data on rapidly moving subjects and events for study, motion analysis, and trouble-shooting. The program combines lectures focusing on imaging technologies, motion analysis, lenses and lighting with labs where the attendees have the opportunity to try out the latest in high-speed-imaging equipment.